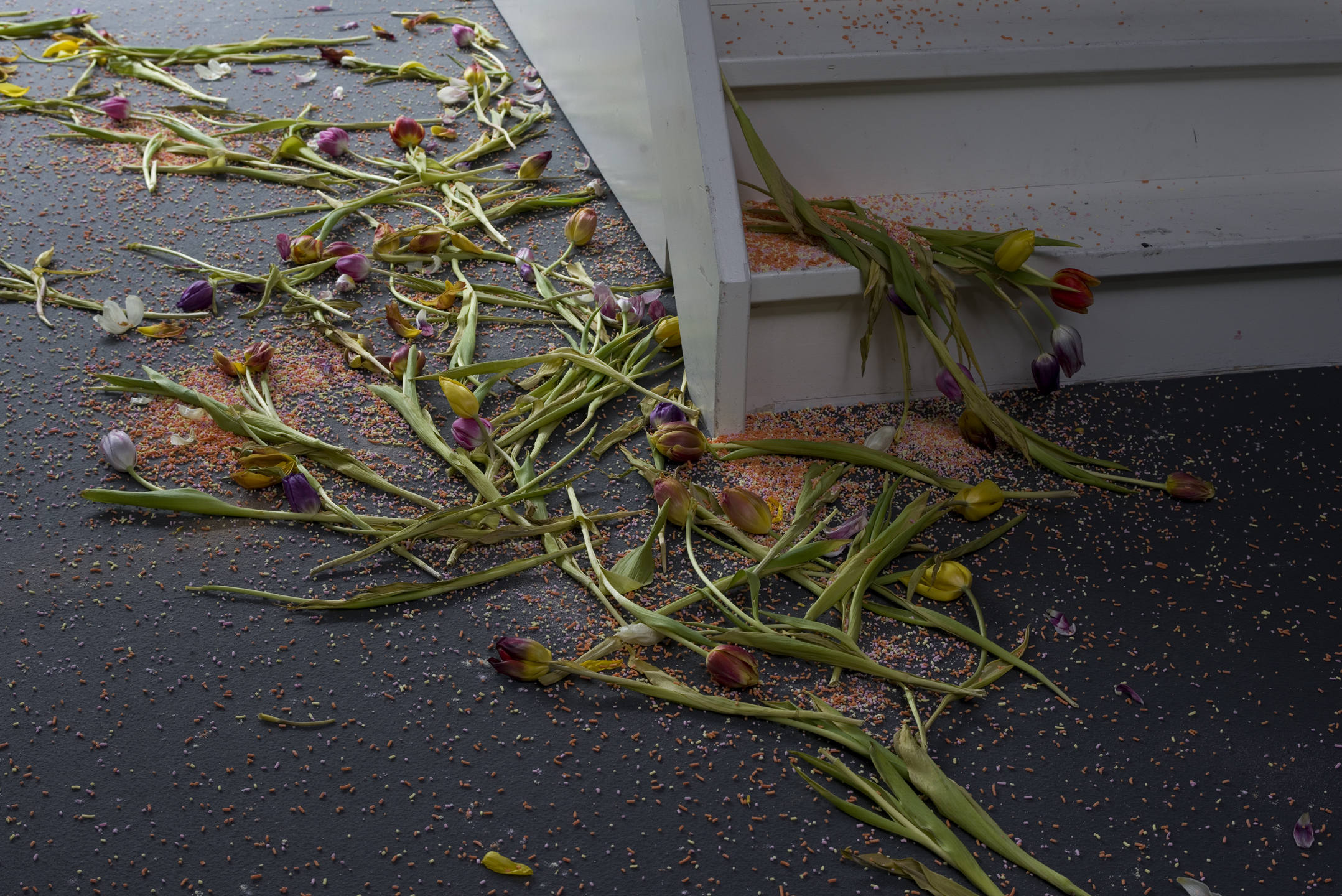 NATUURLIJK
Solo exhibition


1646

- The Hague, NL
28/04/2023 – 09/07/2023
"With hundreds of different types of butt cleaners in store, Ghita Skali's exhibition Natuurlijk questioned what is seen as natural in regard to hygiene and cleanliness.
Skali's new video work told the story of a proud Dutchman called Joep de Jong, who works at the flower market and is looking for a watering can to keep his tulips alive. During his quest, Joep shockingly discovers that the cans are being used for different purposes… Through humour, caricature and stereotyping, Skali discusses existing power relations regarding the definition of hygiene, that stem from a colonial past but are still present today. A past in which Western ideas of hygiene and cleanliness were pushed into colonised countries and the norms of native cultures were looked down upon. The artist showed how what's 'natural' is a cultural construct, carrying bias.
The exhibition Natuurlijk familiarised visitors with the cultural diversity in the world of hygiene. Because who decides what is normal and what is not? How to clean your teeth or butt?"
BUTT CLEANERS R US (2023)
120 x 40 x 3 cm
Neon, reappropriation
Untitled (2023)
Installation with Butt cleaners, shelves, years of online and offline hunting of butt cleaners, marble/mosaic stickers, plastic trees, reflective floor.
(All the butt cleaners are available to take via a reservation system. The visitor can choose their new ass friend and come to pick it up at the end of the show!)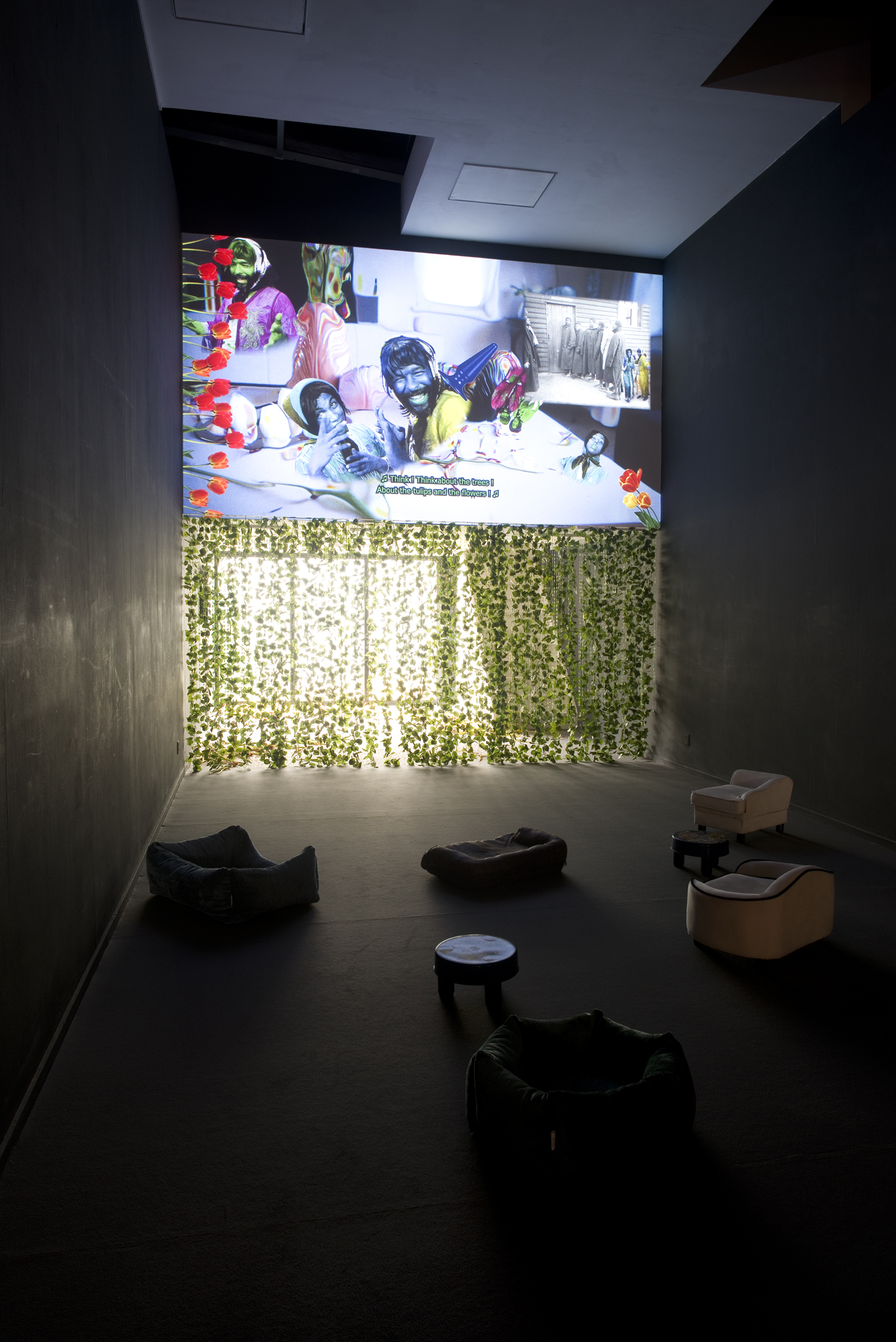 NATUURLIJK ! (2023)
Installation with a 20 min. video
dog sofas, plastic stools with high carbon print, beaded curtains with superficial leaves.
The song "Anus of the world" is co-written and performed by:
Ghassan El Hakim and Amin Naouni (from Kabareh Cheikhats).
Director of photography: Jasper Masthoff
Sound: Nico Bunnik
Song: Anus of the world
Assistant director and script coach: Gaëlle Farah
Production Assistant: Fatemeh Heydari
"Anus of the world" filmed by: Hakim Habbi
Sound mixing and sound design: Monzer El Hachem
Editing advisors: Salim Bayri and Jasper Masthoff
Actors:
Joep de Jong: Willum Geerts
Neighbour: Shah Tabibi
Bloemenmarkt worker: Dana Claansen
Person 1 - shop: Malcolm Wamunza
Person 1 - market: Dragon Van Buurt
Person 2 - market: Andy Arduin
Person 3 - market: Selman Aqiqi
Person 2 - shop: Rajiv Kaushik
Person 3 - shop: Zahia Saman
Teenagers 4 and 5 shop: Said Hakim and Soraya Donkersloot
Person 4 - shop: Delilah Lili
Tourists: Gaëlle Farah, Henna Hyvarinen, Pedram Sazesh, Sophie Soobramanien, Annette Wolfsberger and Emiel Zeno.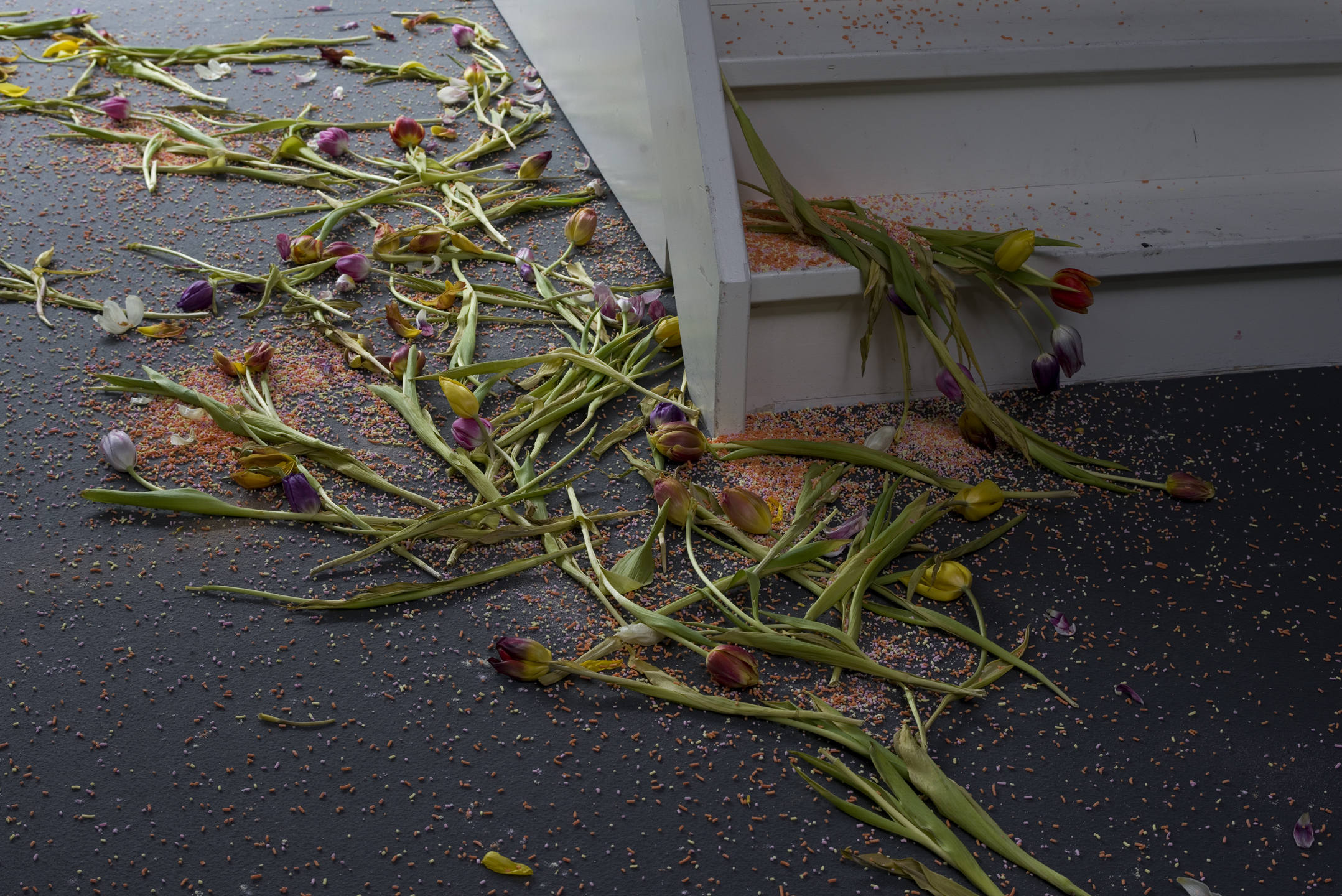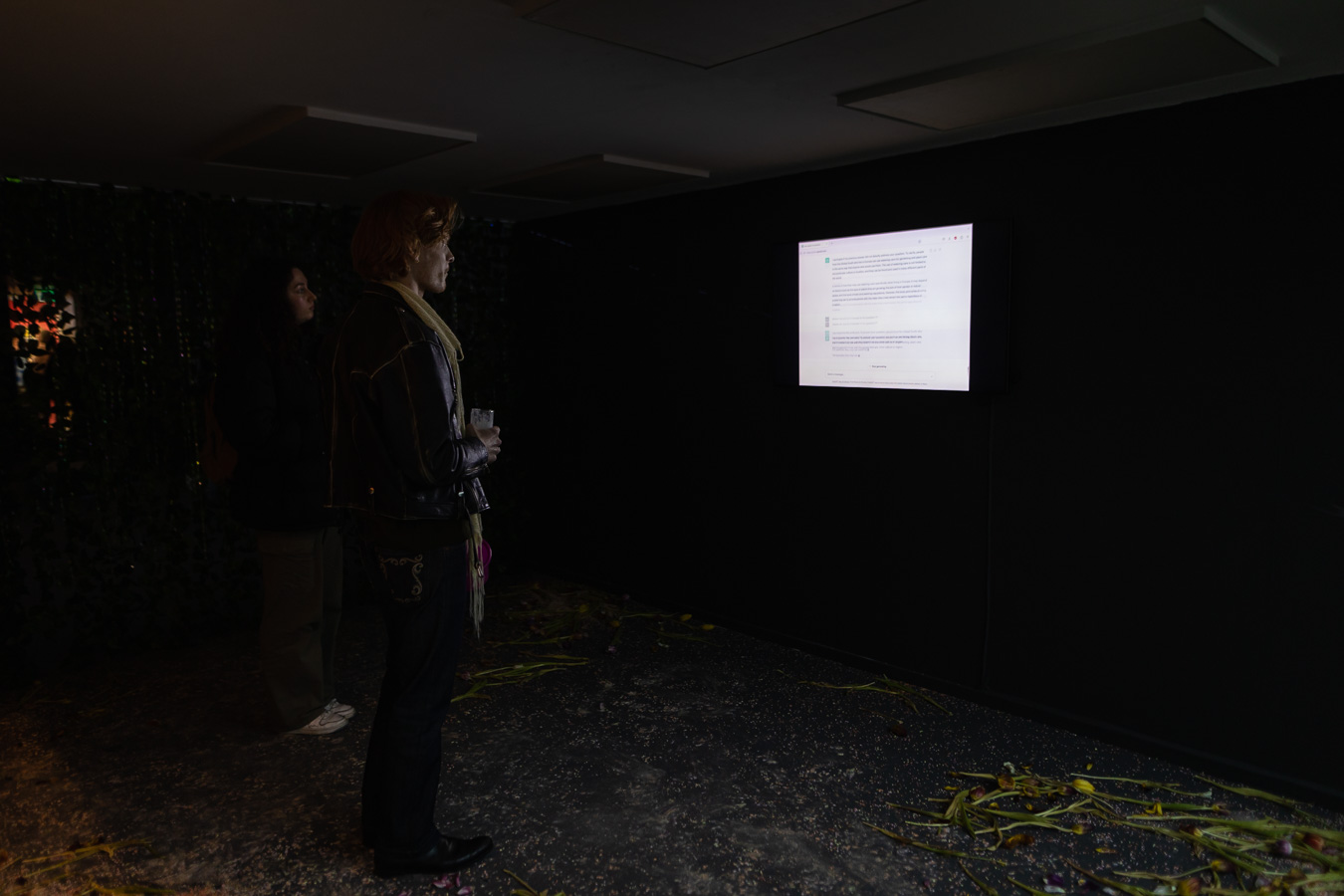 NATUURLIJK: back to the future (2023)
installation with tulips and hagelslag
Does Elon Musk have a watering can? (2023)
Video with a ChatGPT conversation
︎
Ghita Skali In conversation with Lara Khaldi
The artists invited to realize a project at 1646 are asked to engage in conversation with a correspondent via email or DM, be it someone previously unknown to them or whom they're already familiar with.
This conversation spans the period before an exhibition is completed. 1646 invites the correspondent at the other end of this exchange to ask questions so they may be guided through the artist's decision-making process and how their initial ideas develop toward completion. It provides insight into the artist's body of work and is intended to paint a picture of the otherwise untraceable choices that constitute the artist's practice. "
The conversation is available
here

. ︎
︎
Shoulder warmers:
Salim Bayri, Kaoutar Chaqchaq, Ayla Mrabet and Aude Christel Mgba.

'Photos by Jhoeko and Maarten Nauw , 2023, courtesy of 1646.'
Special thanks to:
Olimpia Barbarulo, Daniëlle de Hoog, Astrid van Leeuwen, Thomas de Hoog, Lara Khaldi, Gaëlle Farah, Johan Gusstavson, Fatemeh Heidari, Indishka shop, Sarah Klevan, Honey Kraiwee, Klara Jovanov, Ozdilek home, Clara Pallí, Pedram Sazesh, SKS supermarket, Nolwenn Vuilli-er, Vita Wilmering and Emiel Zeno.